Historic wood windows are kind of like the rock stars when it comes to preservation and restoration. Everybody talks about them, most people understand the need to preserve them and you'll find dozens of workshops around the country where homeowners can learn to restore them on their own.
I even wrote a book to teach people how to walk through the restoration process that we use in my shop every day called Old Windows Made Easy.
It makes sense why these are so popular. They are everywhere and they are simple to understand. They're just wood, putty and glass. Well, steel windows are not much different except instead of wood, you've got steel, so why don't they get the preservationist's attention? More to the point of this post, do they deserve attention like wood windows?
Are Steel Windows Worth Saving?
While not as common as wood windows, steel windows make up a huge portion of the historic windows still remaining in this country. They were used heavily in industrial buildings in the late 19th and early 20th century and then became extremely popular in residential buildings in the early and mid 20th century.
From English Tudors to Mid-Century Modern homes, these steel windows were a constant fixture in a variety of designs. They are an important part of the historic fabric and definitely contribute to the original appearance of the building.
Worse even than the replacement of wood windows, the replacement of steel windows almost always looks jarringly out of place, since the style of these replacement windows is so completely different from the original steel.
While the argument to save these steel windows simply for aesthetic reasons is pretty overwhelming in my mind, I want to offer you some other reasons why steel windows might be worth saving.
1. Steel Windows Are Long-Lasting
But they rust, right? Yes they rust, but that doesn't mean they aren't some of the longest lasting windows ever manufactured. Rust is something that can be repaired and rust can be prevented. Just like wood rots, steel rusts. It's only when you don't provide your windows with a little maintenance that things can get dicey. If they lasted the first 80 years, they can last the next 80 years.
2. Steel Windows Are Secure
The frames and sash on steel windows are solid rolled steel that is extremely strong and with the typical multi-lite designs, they create one of the most secure windows ever. Security may not have been a big issue back in the day, but today having a secure and burglar-resistant window is a definite plus. The design of steel windows is essentially like having bars built into the architectural design of the window.
3. Steel Windows Are Efficient
Yes, I know the rumor about how leaky steel windows are, but it simply isn't true. Looking at an 80 yr-old steel window that won't close because it's bent out of shape and caked up with tons of paint is like complaining that your Porsche which has never been washed or had it's oil-changed is a junker. No, it's just not been cared for at all.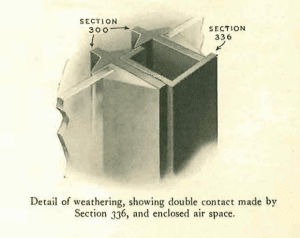 Testing done by the Windows Preservation Standards Collaborative revealed that restored steel windows are incredibly efficient. That efficiency comes from the interlocking design of the sashes and frames that, when closed, provide exceptional air sealing (even by today's standards).
There are weatherstripping options, though they are rarely necessary, and replacing the glass with laminated or low-e options often can help steel windows make extraordinary gains in energy efficiency.
4. They Can Be Restored Simply
Just like wood windows, steel windows can be restored fairly easily by homeowners and DIYers. I've written an eBook called Steel Windows Made Easy that outlines the specific step-by-step process for restoring steel windows that is tailored to the DIYer.
Like I mentioned earlier, they are just steel, putty, and glass. Most of the supplies you'll need like Sarco DualGlaze putyy and Spring Clips are available in our store as well.
Hopefully, through this,  I've been able to convince you that steel windows are worth saving. I cheer on these underdogs whenever I see them because it's too often that they are torn out and replaced. America was built by steel and these windows are just one example of our fantastic history. Just like most high quality materials installed in historic buildings, steel windows were meant to stand the test of time…if you'll only let them.