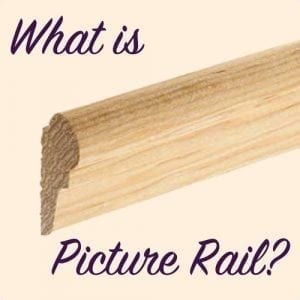 What is picture rail? It's common in older homes built before WWII and more common the older the home is. A lot folks don't understand this simple piece of stock molding that is sometimes mistaken for crown molding or other things, but picture rail has a very specific design and function.
Maybe your old house has a picture rail and you want to know how to use it properly. Maybe it doesn't and you are thinking about adding one for some style and pop to your walls. In this post, I'll tell you what it is and what it isn't, how to recognize it, and more importantly how to use it.
What is Picture Rail?
Picture rail is a small molding usually about 1 1/2″ to 2″ wide installed horizontally on walls within the top couple feet of the wall. Sometimes it is installed right up against the ceiling, only being spaced down from the ceiling about 1/2″, which can confuse people into thinking it's a very small form of crown molding. But crown it is not.
Picture rail is not just a decorative molding, it actually serves a very specific function. It is designed with a small lip on the top of the molding in order to accommodate a picture rail hook. The picture rail hook is by far the best way to hang things on a wall without causing any plaster damage. When installed properly, by being nailed into the wood studs with larger finish nails, picture rail can support heavy loads being hung on walls like large mirrors or paintings that normally require drilling holes in the plaster and installing anchors.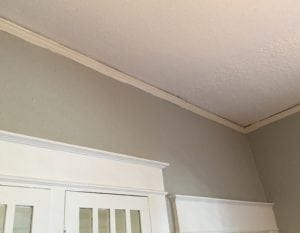 While it might work for mirrors, I don't think I'd try hanging a flat screen TV, so, don't blame me if you try that one! If you do need to install other items on your plaster walls but don't plan to use picture rail, here is a good post to guide you to success: How To: Hang Things on Plaster Walls.
One of the great things about picture rail is that it makes the relocation both in height and position on the wall amazingly simple. To move something left or right on the wall you just slide the hook to wherever you want it positioned. If you want something to be higher or lower, you can simply shorten or lengthen the wire on the back of you picture. No more trying to find a stud or drilling another hole.
The Wrong Way to Use Picture Rail
There's a right way and a wrong way to use anything and picture rail is no different. There are two big mistakes I see when using picture rail and both can spell major disaster. Don't make these mistakes unless you like the sound of things breaking.
Don't Nail the Rail
I've seen people use picture rail in a way that I can only assume they learned from seeing pictures of it online. It's hard to notice the picture rail hook, but this is the linch pin for a successful installation. If you try to hang pictures by putting a nail into the picture rail and then hanging the wire on that nail, you're in trouble. Picture rail is a small piece of molding and nailing through the face of it can easily split the wood enough that your picture may eventually come crashing down when the molding breaks.
Solution: Always use picture rail hooks and never use nails.
It's NOT Plate Rail
Plate rail is a whole other type of molding designed to hold and display plates along a wall. Plate rail is not a specific design of molding, but rather an application of trim to create a very wide shelf that can display things. If you try to display plates or other collectables by setting them on top of your picture rail, you are one bump away from shattered china. Picture rail is far too narrow to have anything displayed on top of it with any sense of security.
Solution: Install a wider molding to use as a display or plate rail.
Picture Rail in New Houses?
While picture rail is typically found in old houses with plaster walls, it can be a fun way to dress up plain drywall and give it a fancy old-world feel for very little money. If you plan to install new picture rail, whether you have a new house or old house, make sure you install it with strong nails. I recommend installing by nailing to every stud with a 2 1/2″ 15 ga. nail if you plan to hang anything of significance on your picture rail. 18 ga. brad nails, no matter how long, just won't have the holding power you need for this hard working molding.
You may be able to find some picture rail at your local mill shop, but if not, HouseOfAntiqueHardware.com carries a few designs of picture rail and also several different styles of picture rail hooks.