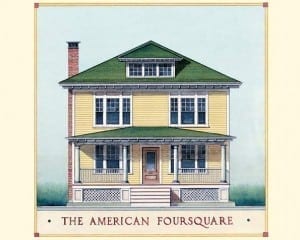 The American Foursquare, sometimes called the "Prairie Box" was a hugely popular architectural style in almost every part of the country. It is one of the consumate American house styles.
Though not technically an architectural style on its own (it's a subtype of The Prairie Style), the American Foursquare is so prevalent that I thought it deserved its own page.
Simple, efficient and affordable, the American Foursquare could be fit onto any small city lot. Popular from the 1890s into the 1930s, the American Foursquare, like the American Craftsman of the same time, was a return to simpler design in reaction to the Victorian styles that preceded it.
History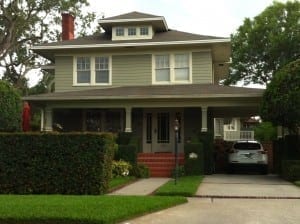 Born in the time of Sear's & Roebuck's massively popular mail order catalogue and during the Industrial Revolution's heyday, the American Foursquare was an everyman's house.
Its efficient layout fit perfectly onto the compact lots of growing city neighborhoods of the time as Americans moved from rural areas to cities for the new manufacturing jobs of the time. Mail-order Foursquares were plentiful across these first-rung neighborhoods.
The Details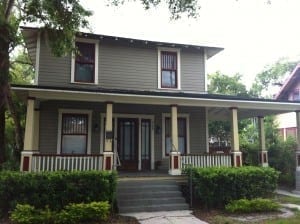 The American Foursquare is almost exclusively a 2 1/2 story house built in a perfect square shape. The roof is either a hipped or pyramidical shape with very rare exceptions. A central dormer that matches the roofline is another tell tale sign that you're looking at an American Foursquare.
Its square shape not only gave it its name but also it's remarkably standardized layout. The downstairs typically had a living room and dining room on one side, and the foyer, kitchen and stairway on the other. The upstairs usually consisted of two bedrooms and a bathroom on one side, and a third bedroom and stairway on the other side. Four rooms on each floor, thus the name.
A full front porch with either greek or craftsman inspired boxed columns is another typical feature. Though often without the intricate detailing of the Queen Anne style, these porches were a prominent part of almost every Foursquare.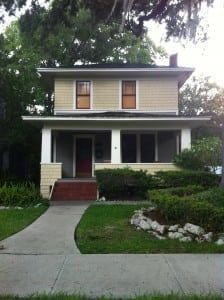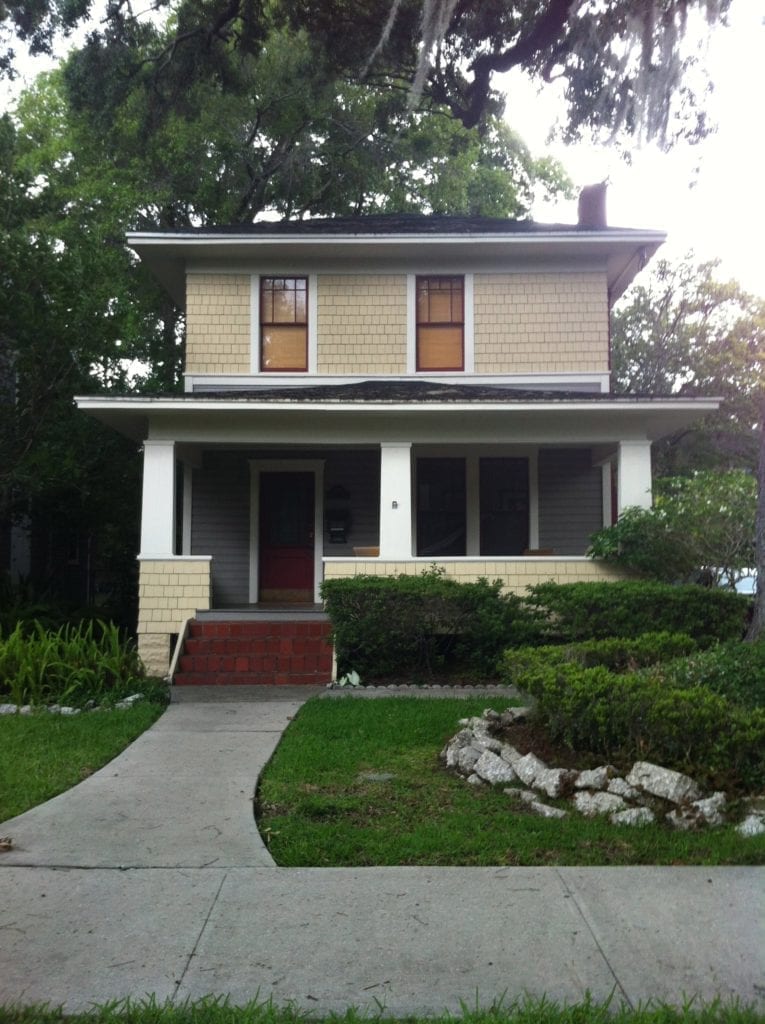 The Foursquare also has some of the most eclectic variations of any style. Brick, stone, stucco, shingle, clapboard siding, none are more prevalent than the others. Some are simple folk versions, and others are high-style with delicate Italianate rafter tails or Mission style tile roofs.
The interiors are just as varied. Often, they were finished with earthy colors and natural woodwork like its contemporary the American Craftsman, but some were just as ornate as the Victorians they shared a street with. Plaster walls and wood floors were of course the norm for the period as well.
The Foursquare is an infinitely adaptable and changeable house. Built to suit the needs and wants of its occupants, or the whims of the architect, it can become almost anything. Just like the Americans who created it, the American Foursquare is the melting pot of architectural style.
Wondering what style your old house is?