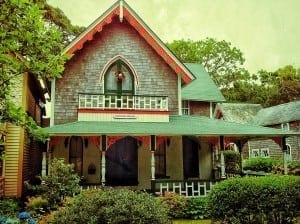 The Folk Victorian style is one of the most often found styles of historic homes in America. Folk Victorians can be found in almost every state, and chances are, you'll find an example somewhere in your own town.
Next to the Craftsman Bungalow, this is the style most often associated today with being a "historic home." And once again, it was the railroads that played a major part in transforming the landscape of America as it brought the most popular style of them all to every town it passed.
Everyman's Style
From 1870 to 1910, the Folk Victorian ruled the day. Unlike the high-style Victorian homes such as the Queen Anne and Second Empire, the Folk Victorian was something the masses could afford.
You see, the Folk Victorian is really just a dressed up folk house. A folk house is essentially a home built to provide basic shelter with little regard for changing fashion or style. And a Folk Victorian was a folk house dressed up with the some of the trimmings that were becoming readily available through our burgeoning railroad system.
Folk Victorians popped up like wildfire across the country as the growing railroads brought the heavy machinery into towns where they could then produce inexpensive Victorian detailing. Local builders could simply graft pieces of the newly available trim onto the existing folk houses in the area. The drive to have the most unique and ornate house in the neighborhood sometimes led to pockets of overly decorated homes like the Camp Meeting Association of Martha's Vineyard among others.
Details
There are several tell tale signs to look for to determine that you've found a Folk Victorian. First, these homes are not the elaborate Queen Anne homes of the same period. They are usually smaller (though not always), simpler in design (no towers or complex floor plans), and almost always symmetrical (except for the cross gabled variety pictured above. You can read more about the extravagance of the Queen Anne Style here.
What set the Folk Victorian apart from the ordinary folk houses was the decorative detailing on the porches and cornice line. Porch supports were usually turned spindles or square beams with chamfered (beveled) corners. Other porch details were often lace-like spandrels or unique jig-saw cut balustrades. Decorative gable-end detailing that borrowed lightly from the Gothic Revival were also common. Windows were trimmed simply and only occasionally contained a simple pediment above.
The Folk Victorian can take many shapes since they are all unique to the their own particular region. Local craftsman brought forth such a huge wealth of trim and detailing during this time that hardly a single Folk Victorian is like another. And, it is this uniqueness combined with a simple home that makes them as desirable today as they were when the very first train of beautiful architectural trim was delivered to your town back in the 1870s.
Wondering what style your old house is?