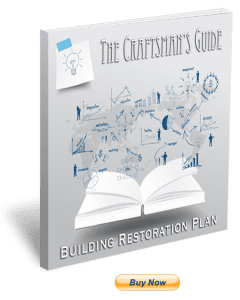 The next book in the Craftsman's Guide series is here! Finally, there is a guide to help you organize and schedule the rehab of a historic building.
Eliminate the guess work when planning a major renovation on an old house.
Do you fix the foundation first? Absolutely not, and I'll show you why in this fantastically helpful eBook.
In this 12 page eBooklet you get:
Answers to all your renovation scheduling questions
A printable checklist to show your progress and keep you motivated
Pro tips to help you renovate right
BONUS!
Included with each eBooklet are my "7 Keys to a Killer Renovation!" These are 7 questions every homeowner and contractor needs to ask before starting a renovation.
Save money. Save time. Save the frustration! Restore your historic building the right way with a building restoration plan custom tailored to historic homes.
The information in this eBooklet is easily worth over $100. But you get it for only $6! That's a huge value! All it takes is one schedule snafu to dramatically derail your remodel budget. This eBooklet eliminates those scheduling problems and will streamline your whole project.