A beadboard ceiling is one of the most common designs used in the construction of old houses because of its awesome versatility. Its tongue & groove design allows it to hold tightly together to keep the elements out and provides a low maintenance covering that can stand up to abuse.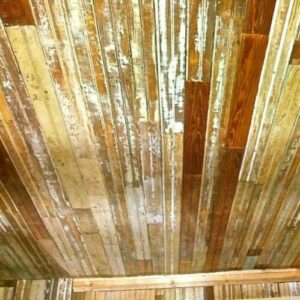 Beadboard was used extensively for elements like porch ceilings, eaves, walls, and more because of its strength and simplicity. I've even seen it used upside down as flooring. It was truly the multi-purpose building material of yesteryear.
One of the great things about beadboard was the cost savings. You didn't need to hire a skilled (read: expensive) plasterer if you installed beadboard ceilings and walls. A carpenter with even moderate skills could install the beadboard very quickly and have your home move-in ready in less time and with less expense.
Problems with Beadboard Ceilings
Just like anything a beadboard ceiling can have some trouble over time if it's not cared for. It usually doesn't need ongoing maintenance other than to keep it cleaned and painted, but there are some issues that can arise over time and they are usually related to water damage. I'll look at the potential problems and how to fix each of them below.
Check out the last tip below about that famous historic blue paint color to make your beadboard ceiling a true conversation piece!
#1 Loose Nails
The nails holding any beadboard ceiling in place against the underside of the ceiling joists may have come loose or rusted enough that they're not doing much good anymore. Houses shift and settle over time and it's not uncommon for those nails to come loose.
If this is the case, simply face nailing the beadboard back in place should remedy the problem. I prefer using 15 ga.  2″ galvanized finish nails so they can be easily hidden. For extra holding power try 6d or 8d ring-shank galvanized nails but you'll have to countersink and fill the holes to avoid them showing. One nail per joist should suffice, but warped boards may need 2 nails to keep them straight.
#2 Rotten Beadboard
You may have water damaged boards that have begun to sag from a leaky roof and these should definitely be replaced.
Traditional beadboard was anywhere from 1 1/8″ to 3/4″ thick depending on the age of the house and your particular region. If you can't find beadboard the same thickness you have, then you can either have some milled to your needs (expensive) or furr out the replacement beadboard ceiling to make it match.
To accomplish this I add thin strips of wood to the bottom of the ceiling joists to help the thicknesses match more closely. This technique is not an exact science and you may have to adjust the tongue and groove, but with a little trial and error you can get it looking pretty good.
#3 Rotten Joists
One last issue is that water or termites may have damaged the ceiling joists enough that the nails will no longer hold. You'll notice this if you keep nailing and nothing seems to be holding. In this case, you'll have to remove the affected beadboard. You may break the first one because of the tongue and groove design, but the rest should come out just fine.
Once you've got access to the joists you can either sister on a new piece of framing lumber to the joist so you have a solid nailing surface or you can fill the joists with an epoxy paste like Abatron WoodEpox (use this tutorial to repair wood with epoxy). Once it's cured, nail the beadboard back in place.
Due to the tongue and groove design of beadboard, getting that last piece of beadboard in can be tricky. The process is very similar to replacing tongue and groove wood floors which I've outlined in a previous post. If you're having trouble, check it out and you can see all my tricks!
Beadboard Ceiling Colors
Once you've got your beadboard ceiling repaired it needs some painting, right? Sure, you could paint it the same color as the rest of the house and have it disappear, but how about going with historic haint blue?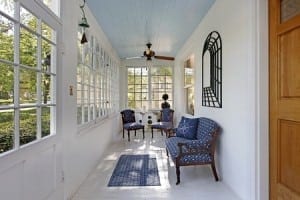 Traditional a beadboard ceiling was painted a kind of sky blue called haint blue. Why? There are a lot of potential answers but none of them definitive. Much like the myriad of guesses as to why some old houses have two front doors we may never know but it doesn't hurt to take a guess.
To make it feel more open: What better way to make a porch feel more like sitting under the open sky than to paint it to look like the sky. It certainly makes me feel more at home.
To keep away bugs: Does the blue fool the bugs into thinking it's the sky and mess with their GPS, or was it that the original blue paints were milk paints containing lye which is an insect repellent? That sounds pretty good to me.
To keep away spirits: Some southerners know of ghosts as haints or "restless spirits of the dead who…have not moved on from the physical world." Spirits were believed to not be able to cross water and so painting your ceiling blue kept the evil spirits at bay.
Because it's what your grandpa's grandpa did: More than likely, this is the reason the blue porch ceiling has persisted still today. Tradition is a powerful thing, and when you grow up in a house with a blue porch ceiling your natural inclination will be to continue that tradition on your home.
So there's four ideas for why beadboard ceilings were painted blue. What do think? Which one rings true to you?
A lot of the major paint manufacturers make a blue paint that is close to the traditional haint blue for your beadboard ceiling. You can find some of the historic paint palettes on my Historic Paint Colors page. There are a ton of historic colors and manufacturers listed here to help you find the right blue for you.
Whatever you color you decide on I hope you can appreciate your beadboard ceiling a little more after reading this and you can get her back in shape and ready to shine again!
To learn how to install beadboard wainscoting on your walls check out this post for a step by step tutorial.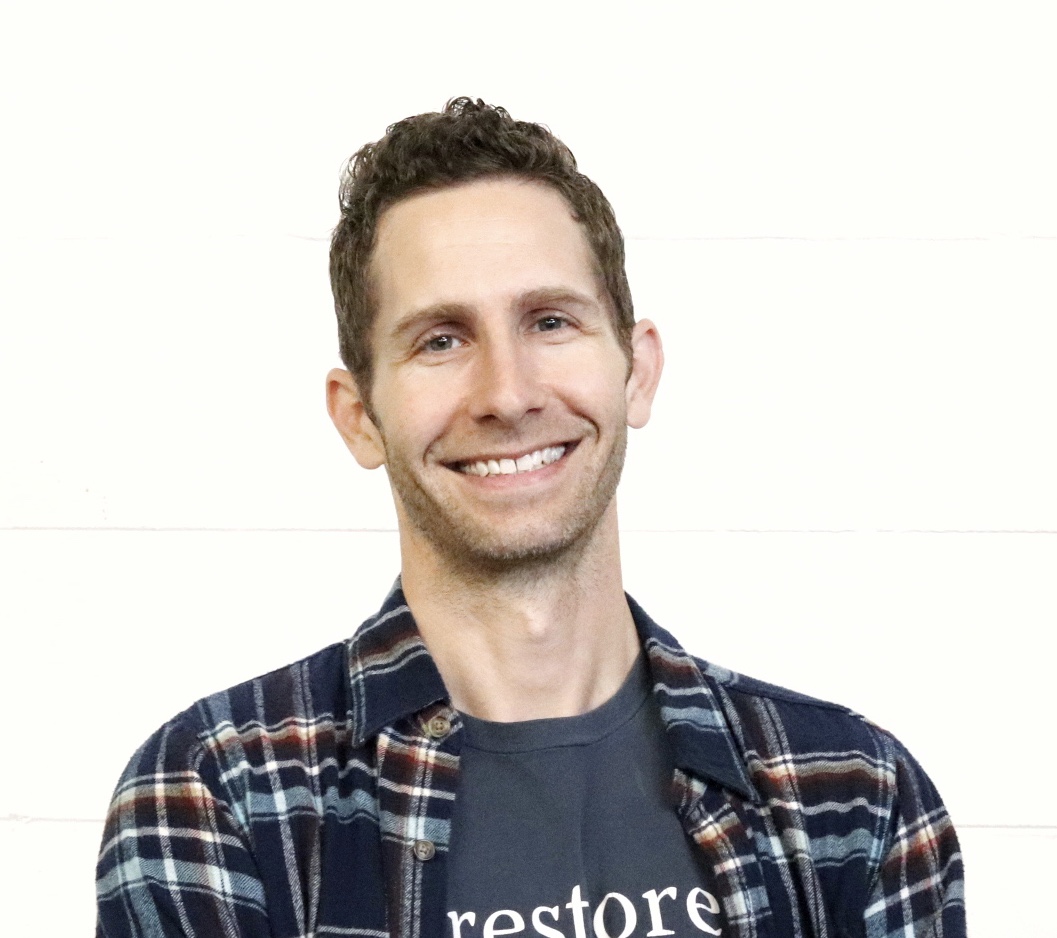 Founder & Senior Editor
I love old houses, working with my hands, and teaching others the excitment of doing it yourself! Everything is teachable if you only give it the chance.
Subscribe Now For Your FREE eBook!