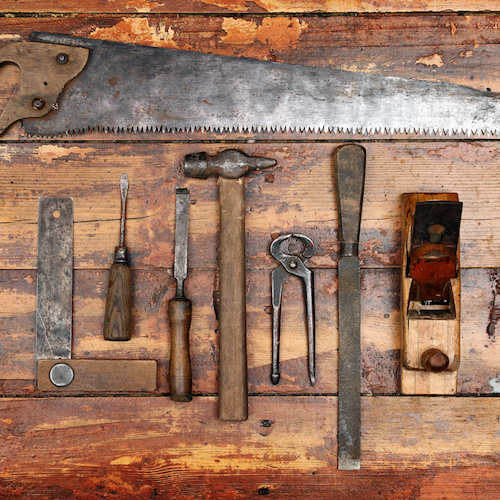 Fixing up an old house requires a lot of different tools. Some of them are easy to find at the corner hardware store and some are more specialty items that are a lot harder to find. Just like picking the right wood filler or choosing the right primer can make or break your project the right tool can be a life saver.
You can probably do everything you need with a hammer, screw driver, and a saw, but it will take forever and make the process miserable! Especially if you have dozens of windows to restore or hundreds of SF of flooring to repair having the right tool can be a Godsend.
In this guide I'll walk you through the best tools to get for any job broken out into each of the big categories of restoration work like windows, flooring, plaster, and painting so you can start simple and scale up as you need.
In each category I'll start with a basic set of tools you absolutely need to have then we'll talk about some next step upgrades before getting into the high end tools that will really up your production times if you are thinking about going pro. You can click on any of the tool links below to see my recommendation of style and brand I prefer.
Window Restoration Tools
Window restoration has a lot of very specific tools that you won't use in other trades so if you are planning to do more than just a couple small repairs to your windows you'll need some version of all of these.
Basic Tools
Hammer – I prefer a Stanley 16 oz claw hammer for versatility
Multi-Screwdriver – You'll come across several different size screws so having a multitude of options like this 9-in-1 Irwin screwdriver works great
Hand Saw – I like the Japanese tooth saws but anything small enough to carry with you to cut parting bead, stops and other small pieces will work
Razor Knife – A sharp utility or razor knife is absolutely necessary for cutting excess paint and caulk
Trim Pry Bar – You'll need slim line pry bar for removing stops and sash without damage
Tape Measure – 16′ is more than enough
Nail Set – You're gonna have to set nails when nailing up stops and in lots of other places
Nail Puller – I use this for removing or cutting nails when necessary as well as cutting sash rope. It's invaluable
Glazier's Knife – A stiff putty knife or actual glazier's knife is a must for glazing your windows
Glass Cutter – A simple steel glass cutter will do for minor glass cutting
Fletcher PushMate – For setting new glazing points this is the simplest tool to get. If you have a bunch of windows you can upgrade to a point driver
Random Orbit Sander – It doesn't have to be anything fancy but you will definitely be doing some sanding on the jambs, sills and sash so having a decent sander that you can hook up to a vacuum preferably is the best way
ProScraper – You need a scraper and while you can buy any old scraper for $15-$25 why not spend just a bit more for one that hooks up to a vacuum to keep the paint chips and dust under control
Next Step Tools
Purdy Sash Brush – My favorite is a Purdy but you can pick any other high end paint brush and it will make your paint jobs look a million times better than that basic brush
Impact Driver & Drill Combo – For boarding up windows and a slew of other reasons this should be the first power tool you get
Miter Saw – For cutting molding a power miter saw makes everything faster and finding the right angels much easier
Table Saw – Ripping moldings is almost impossible without a decent table saw. A simple jobsite saw with a good fence like Dewalt makes sells for under $300 and works great
Carbide Glass Cutter – The inexpensive steel glass cutters where out quickly and can be difficult to cut whereas a carbide glass cutter will last forever and cut perfect every time
Multi-Tool – Even an inexpensive multi-tool will give you flexibility to make a variety of repairs and make them better as well as to cut pocket doors in window jambs
18 ga. Nailer – Battery powered is most convenient but nailing stops by hand is for chumps. It's not 1920 anymore so use the tool your grandpa would have if he could have
Heat Gun – For stripping paint on window profiles a basic heat gun can make the work go much faster and look much better. Its variable temp settings let you keep it at a safe temp for lead paint
Jiffy Steamer – If you want to start using steam to deglaze and strip your windows buying a JiffySteamer and making a homemade steam box is a great way to go
Spring Set – I used nail sets for years before I found this little tool that lets me set nails better and in tighter spaces than a traditional nail set
Glazing Point Driver – If you're glazing more than a few windows the PushMate can be slow and tedious so the logical upgrade would be a point driver which can dramatically speed up the process
Crockpot – For cleaning excess paint off old hardware this is a cheap and effective way to go. Just don't cook your food in it anymore
Level – A 4′ level is best for windows to square things off in an out of square world
Clamps – Speaking of out of square, a variety of clamps can help you get things where you need them
Pro Level Tools
Festool Dust Collector – For the ultimate clean and healthy shop you can't beat a larger Festool dust collector for their performance, longevity, and warranty service. It's a lot of money but your health is worth it and it's especially nice having a tool that just works every time
Festool 90 DX Rotex Sander – Can you tell I like Festool products? Their sanders partner perfectly with their dust collectors and you'll rarely notice a spec of dust when you combine the two plus the flexibility of this sander makes any job possible
The Steam Stripper – Marc Bagala at Bagala Window Works makes these amazing stainless steel steam machines that are designed specifically for window sash. They are pricey but if you are doing this as a business it may very well be worth the expense once your business is making money
Speedheater Cobra – Infrared heat is faster, safer, and more effective than a regular heat gun and this little tool packs quite a punch
Downdraft Table – You can buy one or make your own. These tables keep things clean and are great for stripping sash on to keep all the lead where it belongs, not in your lungs
Bench Grinder – For polishing and cleaning hardware a bench grinder works great. You can find either 6″ or 8″ models and attach a bronze wire wheel for the best effect
Flooring Restoration Tools
We're talking wood floors. If you are doing repairs, installs or refinishing here is the list of tools you are gonna need. I will say that floor refinishing is one job I don't really recommend homeowners try because it requires a lot of very specific skills and working with some very big expensive tools.
Basic Tools
Hammer – I prefer a 16 oz claw hammer
Razor Knife – For cutting felt paper or other underlayment
Molding Pry Bar – Get a pry-bar that is a little beefier than the window pry-bar and you'll have more luck on floors especially since it comes with a cat's paw on the other side
Tape Measure – A 20′ or 25′ tape works better for measuring out whole rooms
Nail Set – You're always setting nails in flooring so make sure you have one of these
Nail Puller – As much as you set nails you'll be pulling them too
Random Orbit Sander – For spot refinishing of floors this is the best
Hand Scraper – You need a standard steel scraper for scraping finish out of corners as well as a file to sharpen it as the blade dulls. Carbide is usually too tough for floors
Circ Saw – To cut out old boards this is a must. Plus trimming new boards to fit starts here
Next Step Tools
Miter Saw – Make angles and straight cuts faster and cleaner than using the circ saw
Table Saw – If you are ripping boards to width this is a millions times easier than using a circ saw
Flooring Nailer – For nailing more than a few replacement boards a flooring nailer will be easier on your back and give you better results on your floors
Air Compressor – There are no battery powered flooring nailers as of yet so a portable air compressor is a must to accompany your nailer
Pro Level Tools
Drum Sander – These are big and expensive but they are necessary to get the bulk of the sanding done when you are sanding full rooms
Edger – An edger will help you get all the corners and small spots the drum sander misses
Under-cabinet Sander – It's like an edger but it is designed specifically to fit under cabinets and stairs and other hard to reach places
Buffer – You need a commercial buffer or orbital sander to finish off the floors between coats or apply stain to big areas
T-bar Applicator – There are several options for spreading your finish on floors and this is a good choice
Lambs Wool Applicator – This is another good option for applying finish to floors
Backpack Vac – Your floors need to be perfectly clean of any and all dust so a backpack vac works great to clean your way out of the room
Plaster Restoration Tools
Plaster repair fortunately has a smaller list of tools than most trades and they tend to be a little cheaper which is a welcome change from the big sanders above.
Basic Tools
6″ Taping Knife – I use this for scraping a wall smooth and apply spackle or small plaster patches
Margin Trowel – This little trowel will help you mix and disburse small batches of plaster
5 ga. Bucket – It's basic but what else you gonna mix in?
Plastering Trowel – Not like a drywall trowel which is slightly concave, a plaster trowel is perfectly flat to allow an even coat of plaster to be applied
Drill – A traditional corded drill is necessary for mixing plaster
Mixing Paddle – A mixing paddle attached to the drill will help you mix things up thoroughly
Sponge – For cleaning up and smoothing out little tweaks to your patches
Brush – A tough brush for cleaning your tools and buckets before they turn into limestone
Hawk – Some people prefer a tray but for true plaster application a hawk is a better way to go
Workbench – Anything you can get to help you reach the ceiling will work, but there are some helpful and easy to use benches you can find
Next Step Tools
Pro Level Tools
Plaster Scarifier – For your scratch coat or a variety of other textures
Darby – For leveling and screeding large flat walls this helps things be completely level. You can get various sizes to fit your needs
Crow's Foot Brush

– Crows foot texture is a popular texture and you can use this brush to dab it on the right way

Drywall Gun

– To make screwing up plasterboard patches this is much faster than a standard impact driver

Baker's Scaffold – If you are doing a lot of ceilings then a baker's scaffold will make life much easier
Taping Knifes – You've got the 6″ and now it's time to buy all kind of different shapes and sizes to match the complex jobs you get
Painting Restoration Tools
The tools for painting are pretty simple but I wanted to cover some of them in case you need it.
Basic Tools
Paint Brush – If you can paint without one please call me and I'll hire you
Paint Key – They're free and make opening your paint can much easier
Drop Cloth – A good canvas drop cloth will last for a long time
Roller Cage – Basic or exotic if you are painting walls you need it
Extension Pole – It doesn't have to be expensive but you need an easier way to reach the high spots
Random Orbit Sander – Nothing better to smooth out old paint
5-in-1 – For so many random tasks
Caulk Gun – Gotta caulk to paint properly
Next Step Tools
Pro Level Tools
Subscribe Now For Your FREE eBook!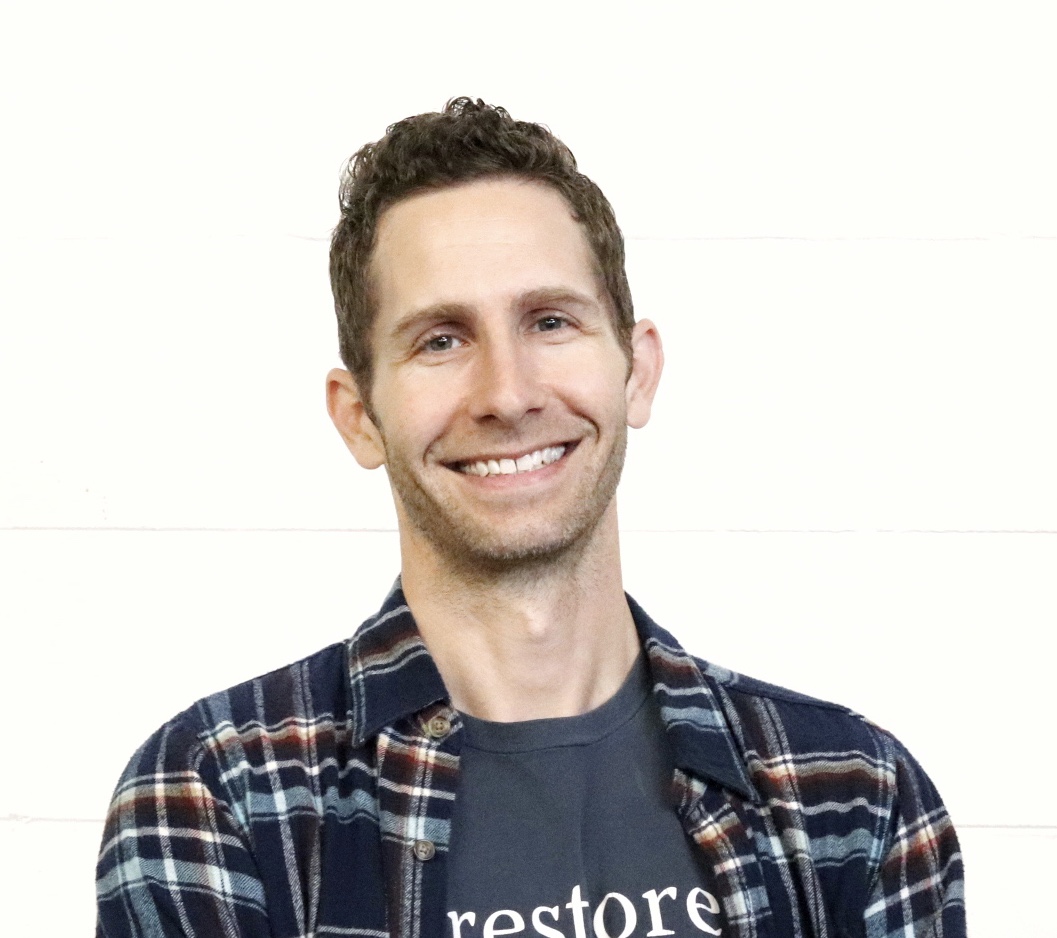 Founder & Editor-in-Chief
I love old houses, working with my hands, and teaching others the excitment of doing it yourself! Everything is teachable if you only give it the chance.