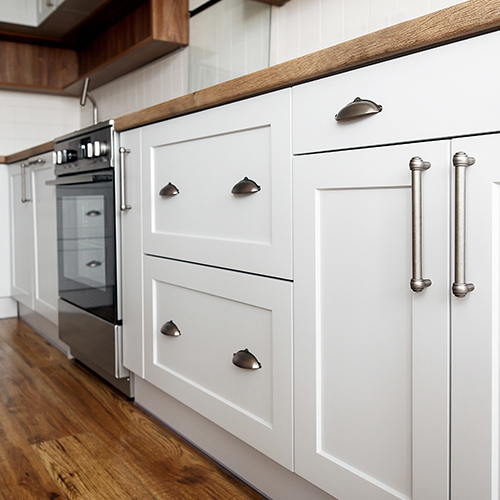 Kitchen cabinets often serve as focal points without our realizing it. When done right they can tie a design together, flow naturally with the rest of the house, and retain their appeal for decades.
Historically kitchens did not have much in the way of built in cabinets until the mid-20th century choosing rather freestanding units like Hoosier cabinets.
That makes choosing a cabinet style that fits well with your historic home a challenge for many people in houses built before the Historical Cusp years of the 1950s.
I'll show you some kitchen cabinet styles that really can stand the test of time and work in most any historic home's kitchen.
Shaker Style Cabinets
The most popular and flexible of all cabinets is the Shaker style. Recognized by their recessed center panel, these cabinets were intended to be plain but functional for the Shaker religious group that, by fleeing to the American colonies in the 1800s, hoped to build a Utopian society. This included crafting their own furniture, and the Shaker cabinet was born in 1850.
More than 150 years later, this style still works in all kitchens, from those of farmhouses to townhouses and everything in between. The beauty of Shaker cabinets is in their simple design. They can be paired with matching or slab drawers and dressed up or down. They can also incorporate masculine woods, vibrant colors, or pale pastels, and almost any pull looks right on a Shaker door. The design is that flexible.
What Is a Shaker Cabinet?
It is, technically speaking, an uncomplicated door with five pieces: a stile on both the left and right, a rail on bottom and top, and a middle inset panel. Because they're rectangular, these cabinets rarely sag. You can add personality to the clean lines by opting for decorative edging or beadboard along the stiles and rails.
Glass Door Cabinets
Glass doors add a warmth to kitchens that cannot be achieved with solid doors. This is because they give you a glimpse of what's inside, allowing you to showcase heirloom pieces or special dishes.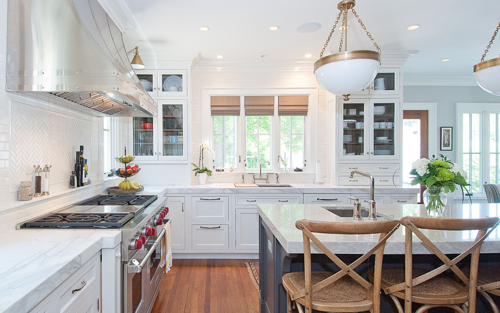 But remember that anything stowed behind a glass door needs to be organized, as these cabinets will likely draw the eye first. You therefore want your items to be balanced – such as the same number of glasses and plates in each – to prevent a messy appearance.
Clear glass doors became popular in the early 1900s and have not wavered since. You can mix things up with painted glass to add an elegant touch, but steer clear of frosted, molded, and embossed glass. These trends come and go, meaning they can quickly become outdated. Also don't forget to reserve glass doors for top cabinets only to avoid breaking glass.
All White Cabinets
Is color a trend? Absolutely, and white is one of the most timeless trends. You'd think it would have always been popular but it wasn't until the sanitary craze of the 1920s that white cabinets rose to popularity.
Why? They provide the perfect canvas around which to develop the rest of your kitchen and you can see if they need cleaning, which may or may not always be a good thing. You can add pops of color – which are important to keep the kitchen from feeling stagnant – in countertop appliances, the dishes you showcase, floor rugs, and lighting.
White also keeps your color palette grounded and contrasts nicely with things like a black soapstone countertop. The shades and materials you incorporate are easily and immediately understood. It reflects light to make small or dark spaces feel more airy and can be easily updated with minimal expense. People love white for another reason: it helps your backsplash stand-out, allowing you to display that subway tile you love so much. In short, white cabinets give you free rein in a tasteful way.
Tuxedo Effect Cabinets
Blending light and dark cabinets adds an artistic touch to your kitchen. Black and white pair well together, but you can also opt for any contrasting light and dark colors. The key is to keep light cabinets on top and dark cabinets on bottom so your kitchen doesn't feel too heavy.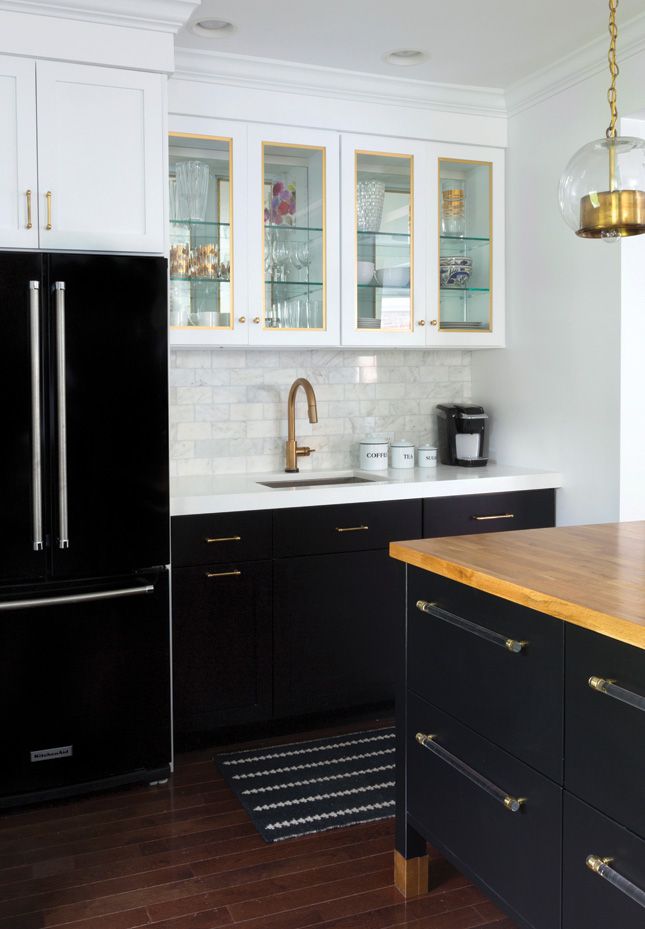 Tuxedo cabinets remain appealing because they interrupt the monotony of one-tone designs. They also open a room to make it more inviting.
Just remember that great interior design relies on visual balance, so the ratio of light to dark cabinets should be somewhat proportionate. You don't want nine white cabinets and three dark, or the scheme will look off. Also opt for neutral flooring that doesn't compete with your bold cabinetry choice.
Open Upper Cabinets
Simple is one of the most timeless traditions of all. In kitchens, this means eliminating wasted space and focusing instead on clean lines, natural light, and flow between this room and the rest of your house. You should therefore feel free to omit some upper cabinets in favor of more windows, open shelves, and wall space that can reflect your unique personality.
Going back many decades, kitchens have incorporated everything from bookcases to large, squishy chairs. Today, forgoing tall and mostly unused upper cabinets can help you balance function and aesthetics so this room doesn't scream "kitchen," but instead serves as an inviting place to gather.
The best cabinet designs are those that have withstood the test of time. From simple Shaker cabinets to sophisticated tuxedo schemes, reaching into our history can help us identify what still looks good, and works well, for the present.
Subscribe Now For Your FREE eBook!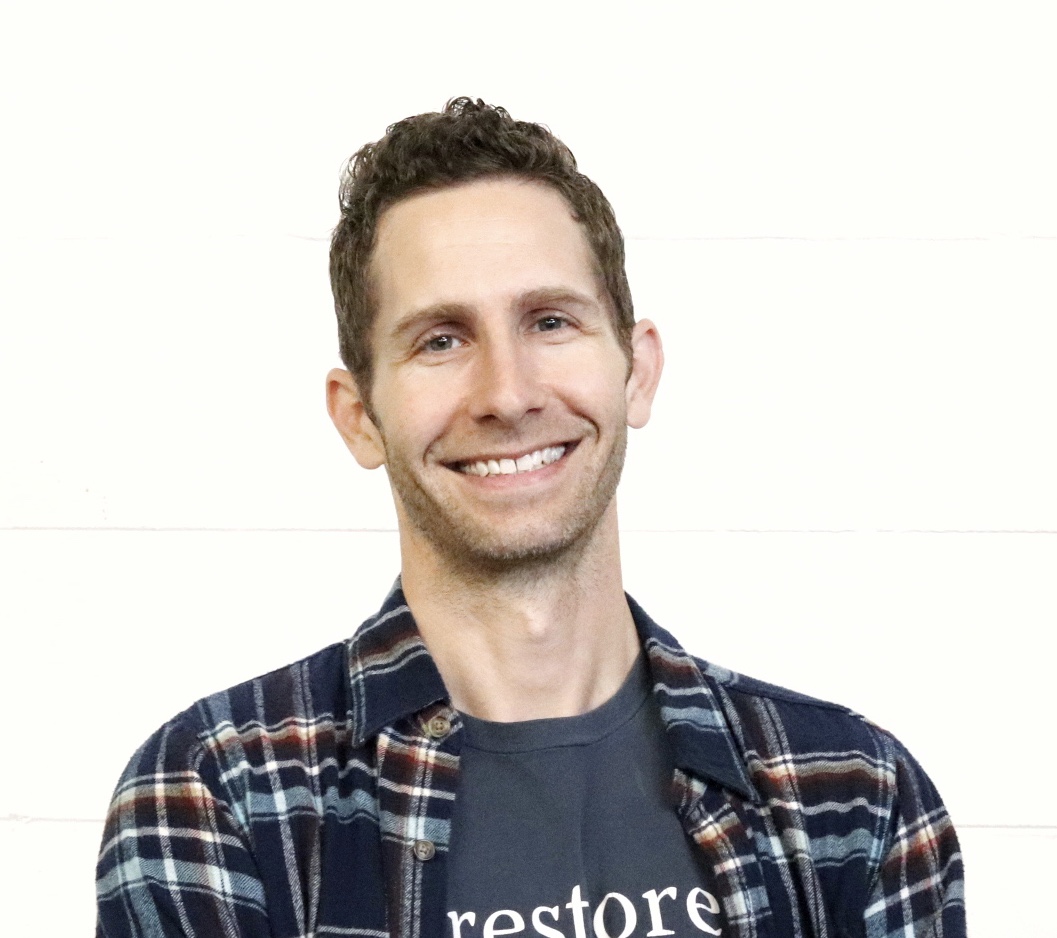 Founder & Editor-in-Chief
I love old houses, working with my hands, and teaching others the excitment of doing it yourself! Everything is teachable if you only give it the chance.