In the early part of the 20th century, a new idea was gaining ground in home construction. This trend was particularly prevalent in the southern states where the mild winters and sweltering summers necessitated a different approach in the pre air-conditioning days. The summer sun could be brutal in the south and while homes of the time were well designed to be self-cooling, it would take a while for the house to cool down from the heat of the day. Thus was born the sleeping porch.
History
Born out of the sanitary revolution, which instilled an almost frenzied fear of germs (a recent discovery by science at the time), the sleeping porch offered a healthy and comfortable escape from the "vitiated" indoor air. In the early 1900s, tuberculosis was the number one cause of death and fresh air was considered some of the best treatment for people suffering from this lung ailment. The population in the southern states discovered that by building a screened, private porch, they could enjoy the cooler summer nights rather than sleeping in a stuffy and warm bedroom. The sleeping porch provided cover from sudden summer thunderstorms and was open on two or more sides to catch the evening breezes. These porches became an especially popular place for children to spend their summer nights. Hospitals also made use of the fresh air by placing patients beds on porches; some of which were screened in and others utilized mosquito nets over beds.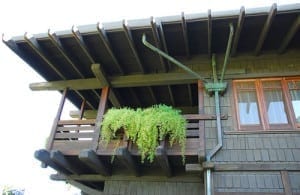 Design
Sleeping porches come in as many styles as the homes they inhabit, but there are some common characteristics among them. First, a true sleeping porch is not the same as a front porch. The front porch is a public space designed to be a transition from the outside to the inside more personal portion of the home. A sleeping porch is a secluded and private room meant to be used only by the home's inhabitants. They are commonly screened in on two, or even better, three sides and placed on a side of the house more likely to catch the evening breezes. Often, they are found on the second stories of homes.
Today's houses have swapped sleeping porches and ceiling fans for air conditioning. And, most old sleeping porches have been closed in over the years to add square footage to the home. But, in a time of eco-friendly building and the demanding schedules of today, the sleeping porch is making a bit of a come back. The frenzied pace of the modern world seems to float away as the cicadas song sings you to sleep and takes you back to a simpler time. After all, who can resist a private porch where you can get back in touch with nature, take a mid-afternoon nap or unwind with a good book, even if it is on your Kindle?