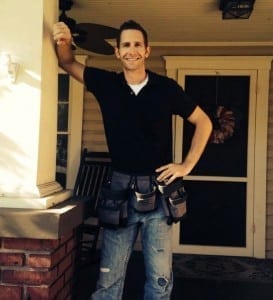 Hi, my name is Scott Austin Sidler and I'm addicted to old houses. There…it feels good to get that off my chest!
But really, I'm crazy about all things historical, especially when it comes to the incredible craftsmanship that went into building the homes of years gone by. So crazy in fact that I started my own company, Austin Home Restorations, to restore these old beauties to their former charm in the middle of the worst housing market since The Great Depression!
You see, I grew up in one boring American suburb after another until my parents bought a beautiful 1759 Colonial house in Highland Mills, NY when I was a teenager. The wavy glass, weathered clapboards, and wide plank wood floors drew me in and sparked my curiosity and creativity. Eventually, I was hooked! I wanted to know how these houses were built and eventually build them myself. Ever since then I've been studying the old ways of the master craftsman who built these amazing homes by hand, and I've been honing my own skills as we go from one historic project to another.
My blog is all about that journey. It's about sharing the knowledge I've acquired over the years to help you understand, appreciate, and properly care for your own historic home. I post about twice a week, but could be convinced to do more if my readers desire.
I encourage you to Subscribe by Email so you don't miss a post to help you on your own projects. And join the conversation by leaving questions, comments or even sending me pictures and stories of your own projects.
Often I'll link to products that I personally use and find very helpful in working on old houses. Many of these products are affiliate links which means If you decide to purchase one of these items through my link I get a small commission (at no extra cost to you!). The purpose is not to just make money, which is always nice, but to help you find products I know will really help you take care of your historic home.
If you're interested in getting to know me better and seeing what this blog is all about then these posts are the place to start. Glad to have you visit, and looking forward to getting to know you!