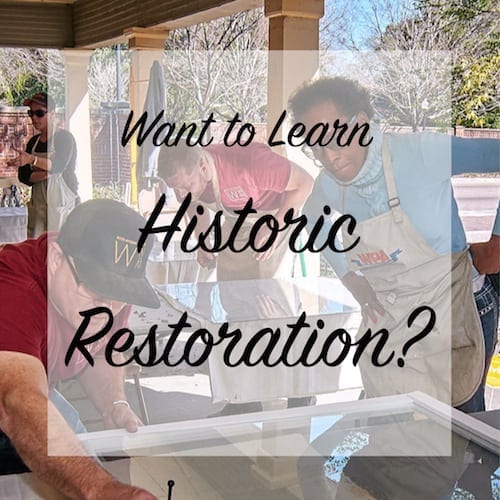 Want to learn historic restoration? I may have a lot of posts and videos on this site to help you learn the skills you need to restore your old house, but sometimes you need a little bit more. Sometimes you need someone to hold your hand and walk you through it in person. With that in mind, I felt it would be immensely helpful to share some of the places around the country where you can get that hands on training in the dark arts of historic restoration.
These classes and workshops are usually not available at your local community college, though that may be the case. You will likely need to travel to find the classes that meet your needs, but there are a lot of great schools, instructors, and workshops to choose from depending on what you want to study. I have met most if not all of these teachers and personally recommend them. Their knowledge and curriculum is top notch!
In addition to learning some great skills, taking a class like these will hook you up with other folks in the restoration industry or other homeowners who have been where you are. Fast and long lasting friendships often result from these too!
Coming up March 9-11, 2018 in Greensboro, NC, you can come meet and learn from window restorers from all over the country. This conference is geared toward professional window restorers and there will classes on topics like lead safety, OSHA, running and growing a restoration business, and more. There is a also a Glaze-A-Palooza competition where you can show off your glazing skills for some great prizes!
This is not only a great way to meet and learn from other window pros, but it caps off with a charity project where you'll get to work along side other pros from all over the country as we donate a full day's worth of window restoration working on a historic building to help a local charity. Find out more here information here!
Coming up soon (Feb 23 – March 2, 2018) this workshop is near and dear to my heart since it is right here in my backyard in Tampa, FL and I've been involved with it for the last 5 years. Steve Quillian at Wood Window Makeover puts on a great weekend workshop and you'll get a chance to learn a ton with lots of different classes on Saturday, and then work alongside window restoration pros on an amazing charity project restoring the windows on the historic May-Stringer House in Brooksville, FL.
Professional window restorers from all over the country show up for this event and they will teach those willing to learn. There is also a good focus for those interested in how to start their own window restoration business. Check out the website here to register before its too late!
In Hannibal, MO Bob Yapp runs a great school that has a variety of classes on historic preservation ranging from How to Make Wood Storm Windows to Masonry Restoration and everything in between. Bob is one of the most respected preservationists in the country and has worked tirelessly to not only restore our greatest landmarks like George Washington's Mount Vernon, but to also teach the next generation his venerable skills.
The classes are small and intimate, which means you get great instruction. While Bob teaches most of the classes, he also brings in other extremely talented pros for specialty classes. Top it all off with a stay at the Belvedere Inn while there and you'll get the royal treatment from his wife Pat who is quite the hostess. Check out their 2018 schedule here!
You can study where I did by heading up to Vermont's Mad River Valley and studying at Yestermorrow Design/Build School! I loved my time at Yestermorrow and learned a ton from their huge group of talented teachers. You can take everything from a weekend class on plastering to a full semester in Sustainable Design/Build. The classes are plentiful and the schedule is pretty good with a lot of 3-day to 2-week workshops to help you learn the skills you need without having to quit your day job.
In addition the great classes, you can't beat the scenery since it is located in an old ski resort on the side of a mountain. The meals are provided and the housing is a choice between dorm like accommodations or cabins and yurts built by formers classes of students. Check out Yestermorrow here!
PTN is a great place to meet others in the preservation world. Their annual conference brings together people who are versed in almost any discipline of historic preservation to show what they are working on. Attendees will learn new and innovative techniques for hands on preservation. Their annual workshop is usually in the fall, but check out their website for other events around the country that may be of interest as well.