A Guest Post by Mike Zook - Mike has been writing about environmental issues and energy efficient home improvements for many years. When he's not writing, Mike works as an engineer, reviewing frac tanks to protect the water supply.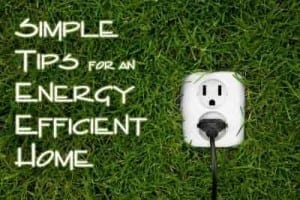 These days, everyone is looking for ways to save money. Many people are also looking for ways to save the planet. The good news is that these two goals usually work hand in hand, and if you are concerned with one issue, you can act in ways that benefit both. One great way to save money and behave in an environmentally responsible and eco-friendly fashion, is to make your old home more energy efficient. Just a bit of work and investment upfront will save you hundreds, or even thousands of dollars on your energy bills! Here are some tips to make your old home more energy efficient. Implement them today and watch the numbers on your energy and water bills go down precipitously.
Update your outdoor lighting. You might not believe it is possible, but you can actually light up your backyard for nothing more than the cost of the lights themselves. By installing solar powered lights in your yard and entry way, you will not only stop using electricity to light your outdoor areas, you will stop paying for the privilege of seeing in the dark! There are many inexpensive solar powered lights on the market, so, go to your local hardware store and see what kinds are available to suit your needs.
Winterize your home – If you have not winterized your old home yet, there is no better time than now – before the cold weather really sets in – to get it done. Winterizing your home is simple and can be done either by a professional, or by the homeowner themselves. It mostly involves finding the cracks in your walls – between the wall and the window, or the wall and the air conditioner, or the wall and the door, etc.  and filling them. This will prevent heat from escaping from your home. It will significantly lower your heating costs in the winter, and then your cooling costs in the summer.
Keep your windows and doors closed – This is a simple tip that anyone can implement right away. Every time you leave a window or door open, you are letting expensive hot air escape from the house. So, start closing the door when you walk in the house, even if you're planning on walk right back out in a few minutes.
Insulate your hot water heater – Water heaters today are made with insulation, but the old ones usually were sold without it. You often get stuck paying to heat water even more than necessary if you don't have an insulated hot water heater. Head to your local hardware store and ask for a water heater "blanket" or "jacket" – they'll know what you're asking for. Installing the blanket can save you almost 10% on your water heating costs.
Use power strips instead of wall outlets – Did you know that every item in your house that is plugged into the wall is zapping energy out of it even when they are not turned on? Hard to believe, but it is true. Some people try unplugging these items when they're not in use, but power strips offer an easier solution. Simply turning the power strip off stops that power leaching, and makes your home more energy efficient, and your energy bills lower.