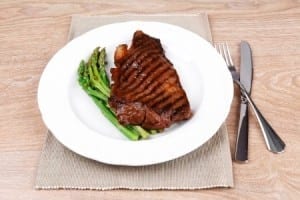 I grew up in Texas so I like everything big. Big sky, big acreage, big pickup trucks and big steaks. There's something about a 36 oz steak called the "widow maker" that appeals to me. Maybe it's the challenge. Maybe it's just the idea of seeing a steak that size. Whatever it is, I'm intrigued.
Just because I appreciate the Texas mentality of 'bigger is better'  doesn't mean I'm a fan of all things big. America has taken Texas' good idea and turned it into something all wrong. 36 oz of dry-aged prime ribeye steak is better than 8 oz of that same steak. That's just more of a good thing! But 36 oz of cheap dollar store steak (is there such a thing?) is not better than 8 oz of that amazing ribeye. And that is exactly where America has gone wrong.
We have much bigger houses than our parents did, and frighteningly larger than our grandparents ever dreamed of, but what has it actually gotten us. We build cheap, quickly assembled dollar store houses that barely last 20 years. Our grandparents, on the other hand, lived in small works of art built by skilled craftsman. We traded quality for quantity and lost our way in the process.
A couple of my friends live in a nice looking townhouse built in 2010 here in the Orlando area. Their townhouse is one of 725 units built exactly the same. And this year the entire complex had to have the exterior stucco completely redone. The builder had been sued two times before for cutting corners and shoddy stucco work. This would have been the third time had the company not agreed to fix the problem before being dragged into court again.
That stucco lasted 2 years before it failed. 2 years! But they manage to keep getting huge contracts to build in the area because they are fast and affordable. When are we going to learn that going with the lowest bidder usually isn't the best idea.
If you live in a historic house you probably get what I'm saying. You can appreciate the hand troweled plaster, the ornate woodwork, the cast iron tub, the hundred year old windows that though they may be caked with paint still hold their own.
Quality is not absent from an old house. It is everywhere. From the roof to the floor, it was meticulously built with care and technique. Your old house may only be half the size of the sprawling McMansions around town, but what it lacks in quantity it more than makes up for in quality. And I would rather have just a single bite of filet mignon than a plate full of dollar store steak.