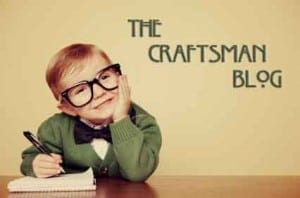 I'm very excited to announce that we are going to be trying something new at The Craftsman Blog! Starting this week we will be accepting guest posts. If you're interested in guest posting with us (and we hope you are!) here is all the info you will need.
CONTENT
Your guest post must be on one of 5 topics:
Old Home Renovation
Historical Preservation
DIY
Reuse/Salvage Projects
Misc. Historic Stories (historic makeovers, personal stories, local historical stories, etc.)
GUIDELINES
Your guest post must contain no profanity or harsh language.
Your guest post may not be an advertisement for a product, service or the equivalent of a sponsored post. We have an advertising category for that if you are interested.
Your guest post must be at least 450 words and not more than 800 words.
Your guest post must be original and you agree not to publish it anywhere else, including your own blog or website except for a short teaser that links to the post.
I will likely copyedit your post for grammar, punctuation, formatting, spelling, etc. I will not make any substantative changes. I will also include a short introduction or conclusion to your post that will be set off from the rest of your writing.
SUBMISSIONS
If your post meets the above guidelines:
Please Email it to us for consideration. You can expect a response in 1-2 weeks either way.
Please include a one or two-sentence bio.
Please confirm that you are willing to engage with our readers in the comments about your post. A good post is a conversation and the writer should continue to be involved.
Please include the post in the body of the e-mail and NOT as an attachment.
Please DO NOT include any accompanying media (pics, videos, etc.) We'll request these if your post is selected to be published.
I'm really looking forward to sharing some your fantastic stories and projects. I think that making this blog a place where we can bring together the amazing accomplishments of my readers and share them will make this a great place. A great place to learn and share our love and appreciation of historic homes.
– Scott