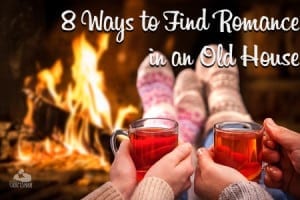 It's almost Valentine's Day and I'm feeling a bit romantic today. Sometimes you have to take a break from the sawdust and flaking paint to stand back and appreciate what it is you truly have.
And while Valentine's Day is typically all about overpriced greeting cards and even more expensive roses (does it really need to cost $6.99 for a piece of folded card stock with a couple hearts printed on it?) there are some other romantic things around our old houses to put you in the mood.
In case you haven't thought about it this way, here are 8 ways to find romance in an old house just in time to make plans for the big day.
1. The Front Porch
For those of us in warmer climates, the winter in the perfect time to enjoy the front porch. The place where you can come to slow down and sit and talk. We lead busy lives and having a place in your old house where you can grab your spouse and a cup of tea with no distractions is a real blessing these days. Turn off your phones, pull up a chair and actually talk to each other. You might be surprised how lovely and interesting that person you pass in your busy day really is.
2. Inglenooks
Not everyone has an inglenook in their house, but if you do, you are one lucky son of a gun. In Shingle and American Craftsman houses inglenooks were cozy sitting areas designs for only 2 or 3 people to gather near the fire in close quarters. Often surrounded by bookshelves, these intimate areas were designed to bring us together, keep us warm and either fan the flames of conversation or help us get lost in a good book.
3. The Gardens
Whether it's covered in snow or a beautiful southern display, your garden is always a peaceful place. The daily grind rarely leaves us time to wander, and especially if you have taken the time to cultivate a garden at your home, taking a stroll from time to time with no purpose other than to enjoy the smells, sights and sounds can put you right at ease. Bring your date and make big plans for this spring's blooms and the summer's lush greenery while trying to imagine what the world looks like without 2 feet of snow. It helps I promise.
4. Window Seats
Sometimes, it's rare but it does happen, I'd rather sit inside instead of going out. On those days, the window seat in my house is the perfect place to relax. I can watch the traffic and passersby. I can stare the squirrels down and sweetly threaten them not to chew on my house while gently caressing my BB gun in plain view. And if both of our boys are asleep, my wife and I can actually have a grown up conversation for a minute or two without the TV distracting us. Bottom line, it's a lovely place to unwind.
5. The Neighborhood
I love going for walks. It quiets our boys down because they are taking in the sights and it opens up a million things for my wife and I to talk about. Old and first rung neighborhoods are filled with character that never seems to leave us wanting for a topic. Whether it's admiring how the neighbor's garden looks or the new paint color on that house that needed it so badly, a character rich neighborhood always stirs a conversation. Even coming together as a couple to hate the McMansion that just went up strengthens our relationship and makes me happy to be with someone who appreciates the same things I do.
6. Big Trees
It may sound a little simple, and maybe it's a guy thing, but there is something awe inspiring to me about huge old trees. It's not that I want to climb them anymore, but to see a grand towering oak that has been in the same place for two centuries watching the world change around it gives me a sense of place like nothing else. You feel little and at the same time protected under its canopy. It might be a stretch, but to me, that feeling is something akin to romance.
7. The Fireplace
Rarely does anything intrigue the human mind as much as watching a dancing fire. The flames put us in an almost trance-like state and the rest of the world seems to melt away. This idea is particularly timely for the middle of February. Cozy up with your partner in crime and talk about romantic things like next week's project to strip the baseboards. Ooooh baseboards, I can feel the heat already!
8. Find a Blanket
Old houses are drafty. While it may be a problem the rest of the year, it's the perfect Valentine's Day excuse to grab a blanket and cuddle up with your significant other. Let the drafts come as they may, you're armed with a warm blanket and the person you love the most to slay the cold weather. You may long for cheaper heating bills the rest of the winter, but for one night at least, you can turn the thermostat down and keep warm in other ways.
I hope you can enjoy the holiday this year and hopefully this post will give you a little laugh and few ways to fan the flame. It's not always about how much money you spend on flowers and chocolates, guys. Sometimes blocking out time to let her talk to you and have you really listen means so much more.
I say it to remind myself too that quality time with your spouse is what matters most and will help you through all the other struggles that life and living in an old house will bring. Happy Valentines Day!