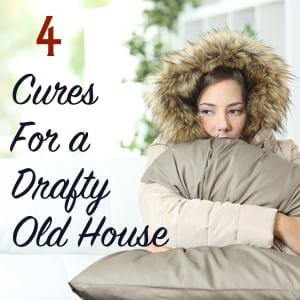 Old houses can be drafty. It's a fact. But just because they are drafty doesn't mean they have to stay that way. The good news is that it doesn't require a huge sum of money spent on big projects like windows replacement to stop the drafts.
There are several very affordable and easy things you can do yourself to stop the drafts and save lots of money on your heating bill.
1. Weatherstrip Doors & Windows
These are by far the biggest offenders of air leakage in any house, not just old and historic houses. Unless they are completely painted shut, your old windows will likely have several gaps to the great outdoors. If your doors are painted shut, well, I guess you've got bigger problems.
A. Spring Bronze Weatherstripping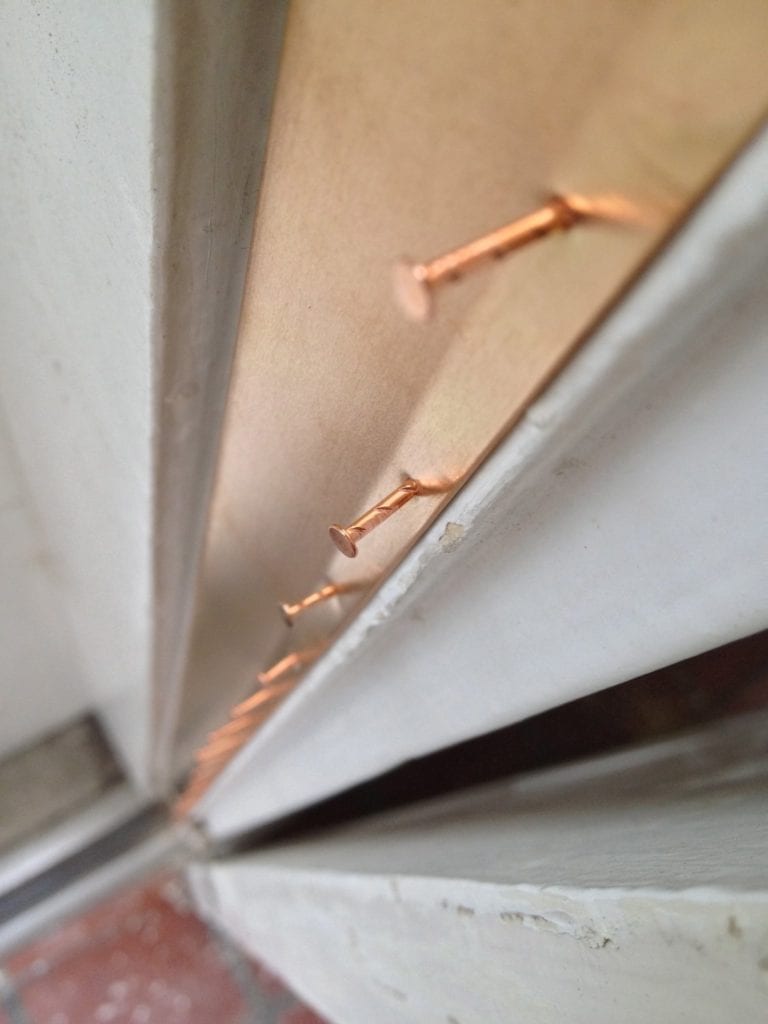 Spring bronze or other permanent weatherstripping is a great solution to make your windows efficient year round. It requires more work upfront, but it's once done, it requires little to no maintenance to keep your windows functioning with top efficiency. Install some spring bronze along the sash tracks in the window jambs and you'll keep the air from whipping around your sashes and into your house. Below are tutorials for installing spring bronze on both windows and doors
B. Other Options
Rope Caulk – If you live in a northern climate, you may have heard of this. Rope caulk is simply unrolled and pressed into place around the window perimeter to seal out drafts for the winter. You can't open your windows until the rope caulk is removed, but who needs to open a window when it's 8°F outside anyway? Then, at the end of the cold season when you want to open your windows again, you simply peel away the caulk and voila, your windows work again. Minimal effort, big payback!

StopGap installed on a window

StopGap – This handy little item installs on double hung windows at the meeting rail/parting bead junction to seal up the largest gap most windows have by design. Its attractive bronze escutcheon and felt gasket give it very long life and a nice look. The bonus is that you can install without any modifications to the windows and it can stay on permanently while still leaving the window operable year round.
Another important part of weatherstripping doors is the sweep. Underneath your door needs to be airtight. There are no shortage of options at your local home store for doors sweeps. Some are attractive, others not so much, but all of them are effective at sealing your door bottom. They are easy to install and cost so little that you would be crazy not to do this step first. $20 spent on one of these today will save you at least 3 times that much in energy costs over the year. As Nike says, just do it.
2. Caulk Baseboards & Trim
This is an area not many people think about when it comes to a drafty house, but it does pose a problem sometimes. In old houses the original baseboards and trim were often installed first and then the plasterer would come in and plaster up to them. This means that behind your trim there is nothing but empty space which makes a great place for drafts to start.
Chances are, your baseboards and trim have been caulked in and any joints are caked with layers of paint, but I'm surprised how often I find houses where this isn't the case due to settlement. Air can pour out of these gaps if they aren't sealed up leaving you with mysterious drafts.
Grab your caulk gun and go around the house to seal up any joints in the boards and any gaps between the trim and plaster that may have opened up over the years. You'll be thankful you did.
3. Seal Electrical Outlets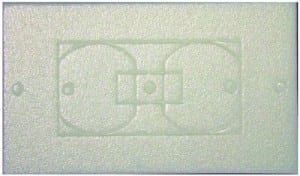 As many electrical outlets and light switches as we have in houses today is like a going around a well sealed house with a hole punch. Every one of these are major offenders of leaky air and drafty houses. Behind that switch plate cover is nothing but empty space that is open to the wall cavity. You need to seal this up and a standard switch plate cover won't do it.
There are foam gaskets available that cost about $0.40 each, are very easy to install and they can seal up every type of outlet like switches, dimmers, plugs, etc. I used them on my own house because I could feel the cold air pouring in behind an outlet one day. No more!
You can spend an afternoon on Saturday and do your whole house for less than $20. The payback is immediate and can be big if you have lots of drafts. These are much safer than trying to use spray foam which is never a good idea in electrical boxes.
4. Foam the Gaps

In every old house there are gaps to the outside. The biggest offenders are usually done by plumbers. The pipes under your sinks, the water supply risers to your claw foot tub, the drain line for that same tub. Wherever a pipe goes through a wall or floor, there is a good chance you've got a gap. You may not notice the gaps because of the decorative escutcheon hiding it, but it's there.
Pull the escutcheon away from the wall and check for gaps. When you find them, use either caulk for small gaps or some spray foam like Great Stuff for larger gaps. Expanding foam is a great product for sealing these gaps since it expands so much and fills every little space. Just remember, that this stuff expands like mad so don't over do it. Once the foam has completely hardened (usually 30 mins to an hour) trim off any excess and put the escutcheon back in place. You'll never know it's there except when you look at your heating bill.
And that's it! Follow those simple fixes and you won't have to live in a drafty old house anymore. Let me know what your experience is. For me, these fixes made a big difference in our heating bills which more than justified the minimal expense. Good luck and stay warm!