Books are possibly the greatest resource for anyone looking to learn something new. There is something extremely satisfying about sharing a great book with a friend. So, this is my way of sharing my 10 must-read old house books. These books are the most helpful and enjoyable books I have come across on the topic of historic homes.
I know that you'll find any of these books a great read and a helpful guide for whatever project you may have on your old house. So, here they are in no particular order.
This is a very comprehensive book covering everything from foundations to roofs and all the details in between. And because of that, it does not go deeply into topics but gives you a more general understanding of a lot of different items.
It has a very methodical approach to old house renovation with sections discussing planning and design. There aren't many topics not covered in this book.
One of its best features is the plethora of detailed full color pictures and drawings. While the descriptions are good, the pictures really help you understand exactly what is being discussed.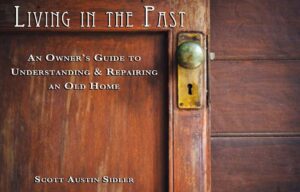 I might be a little biased about this book since I wrote it, but I wrote it because I couldn't find a book that covered the topic of old house repair the way I wanted.
This book is specifically written with homeowners in mind. I walk you through a common sense approach to understanding the unique elements in an old house- how to repair them and how to maintain them as well.
You'll learn how to repair your own wood windows, hardwood floors, siding, hardware, lasting painting techniques and tons more. Click here to get your copy today!
This is pretty much my old house Bible. It is a big ole' book with detailed descriptions of most any repair you can think of. Simple or complex repairs are all covered here in excellent detail.
The only issue here is the lack of pictures (especially color pictures). No color pictures at all. It is, however, full of drawings to describe the work and materials, but for me personally I prefer to actually see photos of what is being discussed.
Honestly, there isn't a better book that describes the inner working of old houses though. You can know exactly how things were put together before you start taking them apart if you have this book handy.
The title of this book is pretty self-explanatory. Although, this book was written in 1983 and pretty much skips the notion of lead-safe paint issues it covers in intimate detail everything else about old house woodwork.
You'll learn about specific house styles, woodwork materials, dating buildings, repairing windows and doors, tons of information about paint and varnish stripping, siding, even wood floor refinishing is covered.
Just be sure to accompany this book with a thorough understanding of lead-safe work practices as required by the EPA.
John Leeke has been restoring old houses longer than most of us have been walking. And this compendium is a compilation of most of his writing into one awesome book.
It includes his excellent restoration reports, in intimate detail, on each of these topics: wood windows, wood-epoxy repairs, wood columns, wood gutters, exterior details, wood moldings, and managing maintenance. Each of these topics are an absolute must read for preservation professionals.
The book not only describes exactly what to do, but the why and the science behind it all, which is very important to me.
This book sits prominently on my shelf because I use it so often. It is an excellent guide to architectural styles across America since its inception all the way up to today.
It has plenty of pictures of each style and gives a history and description of distinguishing details that differentiate one style from the next.
I have yet to come across a house style that I can't find in this book. It's indispensable for the renovator of old houses as a style guide and a helpful resource to the homeowner to better understand their old house.
Admittedly, this book is not specific to old houses, but a big part of owning a home is caring for and planning a garden. This book is incredible at helping you design the outdoors of your property so that it becomes a pivotal part of your home.
It walks you through topics like planning and orchestrating outdoor rooms, vegetable gardens, planting techniques, plant selection and much more.
This book will teach you how to make your outdoors just as nice as your indoors!
Larry Haun has been working with Habitat For Humanity for decades and been building houses since the 1940s. He is a teacher of carpenters and has a natural writing that is easy to read and easy understand.
In this book, he lays out the basics of framing a house very methodically and gives some incredible tips to make the process go smoother.
Reading this book is like working alongside an old-timer. If you're willing to listen and learn, there is a lot he can teach you that isn't found in most books.
Life in an old house isn't just about repairing, though it may feel like it sometimes. This book, by the editors of This Old House Magazine, gives some very fun and creative ideas for salvage inspired projects that will fit perfectly in your old house.
Ideas like a faucet handle towel rack, cottage door dressing vanity, tub feet umbrella stand, chimney pot landscape light and medicine cabinet message center will help you think twice about throwing away old pieces of your home.
More than the ideas contained within, I find that just perusing this book starts my creative juices flowing and encourages me to create some incredibly fun projects for my home.
Before her insider trading scandal and over-bearing presence in department stores, Martha Stewart was a lover of old houses. And this is the Martha Stewart I can hang with.
This book is a documentation of her restoration of an old house she owned in New England. And like the title suggests, it covers pretty much everything from top to bottom.
Though not the most technical book, it provides great decor ideas and helps with decision making during renovation. Plus, to watch the old pro go through the stresses of her own old house renovation is pretty fun.
So, there you have it! My 10 favorite books on old houses. Pick one out. Give it a read. If you can't decide which one, drop me a line and I'll try to point you in the right direction. Happy reading!