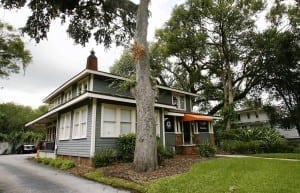 Lake Eola's last remaining historic homes are in danger of destruction. Yesterday I learned of the City of Orlando's plans to remove 5 historic (according the
Orlando Sentinel
these homes are only "semi-historic" whatever that may mean) homes dating from 1915-1930 that border Lake Eola park in order to add what will presumably be green space and expand the park's existing borders by approximately 1 acre. While I think more and bigger parks are a wonderful part of any city the idea of tearing down the only remaining homes on Orlando's central lake is appalling!
Lake Eola was the birthplace of Orlando and the source of many of the legends of how the city was named. From the beginning it was a place that served as home to many Orlando residents. Most sides of the lake were peppered with gorgeous houses built by the wealthiest citizens since it was the most desirable and central location in town. Sadly, over the years the houses have been replaced by office buildings and high rise condos. And through the changes that Orlando has undergone this one quiet block on Washington St. has remained as a historic time capsule of the way Lake Eola used to be.
Now Mayor Buddy Dyer and the rest of the city commissioners have decided that The City Beautiful, as Orlando is known, should be a little less beautiful. Instead of saving one small piece of old Lake Eola for future generations to experience they feel that the citizens will be better served by another playground or dog park. Comissioner Patty Sheehan was quoted as saying "It's been very difficult, and a lot of folks are very upset. But we have to remember the greater good here, and that is getting 1.36 acres added to Lake Eola Park." The "greater good"? Perhaps our representatives are confused about what the greater good truly is.
The 5 remaining buildings are being offered for FREE to anyone who will pay to move them off of the city's property.You can contact Greg Chelius of The Trust For Public Land at (850) 222-7911 Ext. 24 to inquire about acquiring one of the homes to move. However, if they cannot secure a home for them before November or December 2012 then the homes will be demolished. Losing these homes, one is the former home of the late Nobel Peace Prize winner John R. Mott, would be a tragic blow to Orlando's endangered past.
Orlando has always been one focused more on tomorrowland than on its own past and that sad fact shows in the dwindling supply of historic buildings remaining. I only hope that the public outcry will reach the ears of those in power before it is too late and we loose one more important part of our city's story. I'm reminded of William Morris' words on this subject. "These old buildings do not belong to us only, they belong to our forefathers and they will belong to our descendants unless we play them false. They are not in any sense our own property to do with as we like. We are only trustees for those that comes after us."
Please sign the petition below and speak up to save Orlando from becoming the city with no memory. This city has a rich and very endangered history that has been disappearing all too quickly. Please help us save it for future generations!
Update!
All of the homes except for one were razed in the spring of 2013. The area was cleared, save for a few large oaks trees, and is now a large open lawn. Sadly, only one of the homes was left and is now referred to as The Eola House, the only remaining house on Lake Eola in the city of Orlando.