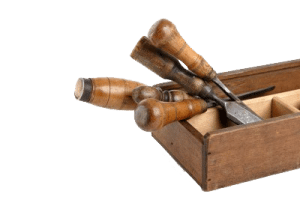 Sometimes a short blog post won't do. Sometimes you need all the information you can find on a particular subject. Maybe you're about to buy a "new" old home or you're planning a big renovation, or a new paint job. Whatever it is, I have put together this page of resources to help you find the information you need.
Each of these resources comprehensively covers the subjects you need most when living in an old house. So for those of you who want more…more can be found right here!
So many people buy and old house and then wonder, "What kind of house did I just buy?" Is it a Bungalow, a Victorian, a Tudor, etc.?? There are so many styles and so many differences in the items that belong to each style. Would you renovate a Craftsman Bungalow with super ornate ginger breading? Hardly! So, why not use this handy guide to the most common architectural styles of historic homes in America. You'll find all the info you need to renovate your old home the right way!
Historic windows are one of the most talked about topics when it comes to old homes. Should you save them? If so how do you fix them? How can you make them efficient? Well, the answers are here. Everything you need to know about old windows is right here. From their history to their design to the inner most workings and how to bring them back to life on your own home. Learn all the materials and skills you'll need to bring your old windows back to life.
I get so many questions about painting an old house it's crazy! From techniques to design it's all covered in this resource page just for my readers. I've listed the tools and techniques right here to deal with proper paint removal and prep. You'll learn how to deal with oil-based and latex paints. And I cover the most valuable info of all…how to pick a color scheme and make a solid plan for a historically appropriate paint job. I've even included links to all the major paint manufacturers who carry historic paint palettes.
Owning an old home comes with some unique challenges. In this series of posts I try to give you answers to some of the most important things you need to know. Some will be answers to questions you have been searching for and others will be things you may never have thought about. Either way it's information you need to know.