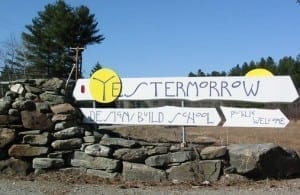 I recently took the opportunity to travel up to the Mad River Valley in Vermont to attend a weekend workshop at Yestermorrow Design/Build School. Yestermorrow is anything but a traditional design/build school. They offer classes in some trades that are hard to find these days. Classes like plastering, straw-bale construction, tiny house design/build, woodworking, and sustainable design techniques. It was such a unique experience I just had to share it with you awesome folks.
When I stepped of the plane into the Burlington airport it was apparent I wasn't in Mickey Mouse's neighborhood anymore. It was a quiet and appreciably slower moving city than Orlando. The hour-long cab ride to the Mad River Valley was made pleasant enough by my driver Todd, who seemed more like a displaced surfer at middle-age than a cab driver. His response to most of my statements with a low-key yet honest "Right on, man." made him difficult to dislike.
When we arrived at the Yestermorrow campus I tried desperately to survey my surroundings, but as the taxi pulled away and left me in utter darkness I was left fumbling for my flashlight. Thankfully, I had brought my always useful head lamp to guide me to my campsite.
As promised there was a map with my name on it on the back door of the office which I hungrily searched for the location of my lodging. For the princely sum of $15 a night I had reserved my very own Yurt. To be honest, I had to look it up too. Being from Florida I had no idea what a "traditional Mongolian round house" was. The accommodations were sparse but more than adequate for my needs. After coaxing a couple spiders off my sleeping cot I rolled out my sleeping bag and faded off to dream under the crystal clear Vermont sky.
After waking to an icy morning I headed down to the main building for some breakfast of granola, yogurt and fresh fruit. A bit more hippie-esque than my usual toast and Lucky Charms but delicious nonetheless. At 9 am we were given a tour a of the small campus and at 9:02 were sent off to our prospective classes.
I was here to study "Modern Plaster Techniques" taught by Allan "Buzz" Ferver. I really feel that plastering is a lost art. It adds such a warmer touch to the walls of a house compared to the monolithic splendor of drywall. You can truly see the hand of the maker in a plastered wall. It's a rather unquantifiable feature in a home, but its effect is felt if not consciously noticed.
We began with the history of plaster and an introduction to the tools and techniques we would be using. A short geology lesson followed and then it was off to work mixing our plaster like chefs in a kitchen. Each of us amateurs searching for the right texture and consistency before we were allowed to start troweling our creation onto the wall.
Let me just say this: it's not easy! Too much of this and it won't set properly. Too much of that and it sets too quickly. The mixing and the application are both an art and a science much like baking. You can follow the recipe, but sometimes it just won't work. It takes a true craftsman to be consistent.
We worked for 8 hours on our walls. Mixing, coating, burnishing then starting again until our hands and backs were finished. For two days we toiled and learned. Leaving some walls of the campus absolutely beautiful and others . . . well . . . not so beautiful. But it's a school. The whole building is a work in progress built piece by piece by its students.
At the end of the weekend I said a not so sad goodbye to my Yurt and enjoyed a celebratory breakfast with some new friends. We talked about the many projects we were about to tackle when we headed back to our own parts of the country. It was as pleasant as the New England fall just beginning to burst forth in the mountains around us. I headed out to my displaced-surfer taxi company and waved goodbye to the few stragglers left. And as Yestermorrow fled past the windows I was glad for the learning, sad for the leaving, and happy to be going home.
If you'd like more info on the school go to Yestermorrow. They have some great classes that are open to anyone. It's a great place to learn from some truly skilled craftsmen who are the best in their fields.