Lately, I have been drooling over the idea of building myself a Tiny House. It may seem like a stretch for a guy who talks constantly about old houses to want to build a new one, but a Tiny House has plenty in common with a historic home.
I've been talking with Alex Pino at Tiny House Talk to pick his brain about Tiny Houses. I'll be posting an interview I did with him in the next couple weeks too! Even my friends at Historic Shed added small cottages to their offerings this year too. It seems like the trend is continuing to grow.
My wife and I just finished turning our detached garage into a mother-in-law suite and it really got me thinking about Small and Tiny Houses. Our new guest house is about 400 square feet, and it has inspired me to push forward toward building a Tiny House on wheels for my wife and I. Of course, convincing her might require a little work. So, I've been putting together a list of reasons I want a Tiny House. Tell me what you think!
1. They're Green
A smaller house is a greener house. A Tiny House requires less material to build, less energy to operate and less work to maintain. Saving all those building materials from those rooms we rarely use like the formal living and dining rooms makes good economic and ecological sense. Not to mention the fact we won't have to heat or cool those rooms all year long. There's even a company called Tiny Texas Houses that builds every bit of their houses with salvaged materials!
2. They're Portable
Why waste the money on a timeshare when we can have a small, portable vacation home that we can bring with us anywhere we want. And we won't have to stay in one place on vacation. We can tour the country in our Tiny House. It's as portable as an RV, but with such nicer accommodations and style. It's like the Rolls-Royce of the RV world!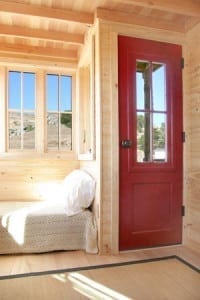 3. They're Affordable
If you're tired of renting, but can't afford the massive expense of buying a house why not build your own Tiny House? Companies like Tumbleweed offer blueprints and materials lists to build your own house for under $50k. A Tiny House makes homeownership not only within reach but homeownership without a mortgage very possible. I definitely like that!
4. They're Well Built
If we built a home with a smaller footprint we could afford better materials. High end finishes like hardwood floors, stone tile, or whatever else we want. $20 a square foot tile can't hurt our budget too much when the bathroom is only 10 SF. Plus, since it's a portable Tiny House it has to built to withstand hurricane conditions to be trailered at highway speeds. I know my wife will appreciate the finer materials. She has a knack for finding the most expensive options, usually without even knowing or trying.
5. They'll Help You Declutter
Let's face it, you can't have clutter if you live in a Tiny House. There is no room for it and that can be a good thing. We'd have to decide what we really and truly need in our home and the rest will have to go. Maybe to a storage unit if it's important enough to save but not necessary for everyday use. Life will be simplified down to what really matters. It would probably be a hard withdrawal period, but in the end I think it would be better for us since happiness really isn't found in our "stuff."
6. They're Cool
I admit it. I drank the Kool-Aid. I really do think they're cool! Maybe it's the little boy in me still, but they feel like a cozy little fort. There has always been something comforting for me about being in a small cozy space (and yes, there is a difference between cozy and claustrophobic). I feel safe and comfortable. And every Tiny House I see makes me want to sit down with a good book and a good beer. My friends at Historic Shed added small cottages to their offerings this year too. It seems like the trend is continuing to grow.
I don't know if I'll convince her, but I have to give it my best shot.
Also, check out my other post "Why a Tiny House Should Be Your Next House"
Photo: tumbleweedhouses.com