A Guest Post By Christina Fusano – Christina is a blogger by profession and has a flare for writing about interior design and home décor. She has been recently working for Primera Interiors that offer their services in Arizona, Nevada and Colorado region.
The word 'interiors' these days has become more or less limited to expensive looking, trendily designed home, office or studio interiors. But what's inside a building is so much more than that. A building is a shell of walls. Its interior is what gives it its purpose. It could be a living space, a prison cell, a place of worship or a library. The world has some beautiful buildings to offer as monuments and landmarks, but it also has some spectacular interiors, that showcase the soul of humanity, here are 6 of the most stunning interiors of the world (in no particular order).
The Trinity College Library
Located at Trinity College, in Dublin, this is the largest library in all of Ireland. Home to the famous Book of Kells, this library exudes an atmosphere of quiet wisdom, and higher learning. The walls of this library have witnessed countless notable scholars burn the midnight oil. A true visual of humanities thirst for knowledge, the library caters to countless tourists each day.

Masjid al Haram
Located in the holy city of Mecca in Saudi Arabia, this masjid give breathtaking sight of prayer and worship, particularly during hajj season (particular time in the muslim calendar when muslims from all over the world make a pilgrimage to Mecca). Although the internal design is simple, due to the sheer number of pilgrims who visit this holy place, it has an almost ethereal quality.
Sistine Chapel

Located in the Vatican City, the Sistine Chapel is the official residence of the pope. During the patronage of Pope Julius II, between 1508 and 1512, Michelangelo painted 1,100 m square (12,000 sq ft) of the chapel ceiling. The ceiling, is widely believed to be one of Michelangelo's crowning achievement in painting. The chapel is majestic, beautiful and beyond compare. Just looking at the ceiling fills one with awe and wonder.
Neuschwanstein Castle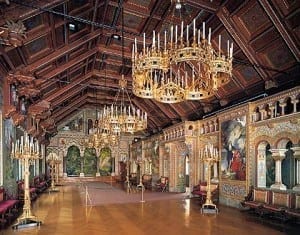 Neuschwanstein Castle is a 19th-century Romanesque Revival palace on a rugged hill above the village of Hohenschwangau near Füssen in southwest Bavaria, Germany. Since it was opened to public in 1886, over sixty million people have visited the castle. Though it was intended that the palace have 200 rooms only 15 were completed. The two largest halls are the Hall of Singers and the Throne Hall. Composing primarily of medieval architecture, this castle on the hills is every romantics dream.
Buckingham Palace

Buckingham Palace, located in the City of Westminster, is the official London residence and principal workplace of the current British monarch. The palace was designed as a setting for state occasions and royal hospitality. It is an iconic landmark for the British people in times of national rejoicing and crisis. With its plush interior, symbolic rooms like the Throne room and the Green drawing room, Buckingham Palace is wrapped in an air of royal finesse.
Paris Opera House

Built by architect Charles Garnier, between 1857 – 1874, the opera house is located in the 9th arrondissement in the heart of Paris. Flaunting Neo-Baroque style architecture, this interior is the perfect embodiment of art and theatre. Known best for its main staircase, this theatre is a sight not to be missed.
Image Credits: theredheadedtraveler.com
ipakinfo.blogspot.com
chameleon-interiors.blogspot.com
neuschwanstein.de
thepurplepassport.com