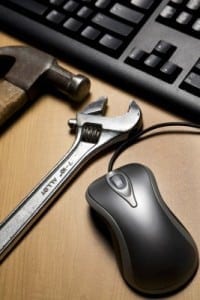 There are countless old and historic house blogs scattered across the Internet. Some of them focus on How-To subjects, others discuss the history of old houses, and some are an online diary of people's journey to fix up there own historic house. Some of these blogs are great for learning the step-by-step of certain projects while others are fun to read the cautionary tales of hapless homeowners. All of these blogs can be a great source of ideas for your own home.
We've taken the time to list our 10 favorite old house websites currently out there. And each one of these is definitely worth a read to learn a little something, have a little laugh or find the next great idea for your house.
1. 1912 Bungalow – This blog is the story of Heather Ferguson and David Chiu who purchased and began A MASSIVE restoration project on their Arts & Crafts Bungalow near downtown Los Angeles in 2002. Name the project and they have most likely done it. From foundation repair to dormer rehab they have documented it all very well on this easily searchable blog.
2. My Finish Carpentry – If you have a trim project coming up this is place for tips and tutorials along with lots of great pictures to give you ideas about baseboards, crown, casings, wainscoting and much more.
3. Historic Home Works Forum – This a fantastic place for advice from professionals and amateurs about working on historic homes. Lots of threads about a vast array of subjects that are specific to historic properties.
4. OldHouse Web Blog – OldHouse Web is exactly what its name says. A huge collection of anything pertaining to old houses on the web, and their blog section has lots of well organized articles from bloggers all over the historic preservation and home improvement spectrum.
5. Historic House Blog – This site has an eccelectic taste in its postings ranging from architectural styles to historic properties for sale. They even have book reviews you might be interested in and the ever popular post featuring a historic house for sale for only $1! (moving fees not included)
6. Perfectly Imperfect – Perfectly Imperfect's Shaunna creates a fun atmosphere with this blog dedicated to all the great ideas she has concerning DIY crafts and vintage design ideas for your home. She's an expert at unique furniture creations and will walk you thru how to paint special finishes on your one of a kind pieces to make them really stand out.
7. Wood Window Makeover – Steve Quillian is an expert when it comes to historic windows. He can save them when others would tear out and replace and he can build them from scratch to look exactly like the real deal. His blog has plenty of pictures and lots of short lessons on repairing and understanding historic windows.
8. HistPres – Histpres is a little different from the other blogs we've mentioned so far. They cover the happenings in historic preservation around the country. Topics such as preservation trends, job opportunities in preservation related fields, education and training in preservation, as wells as blogs by professionals about their particular trades. (Updated 9/15 HistPres has shuttered their website for now. Let's hope they come back online soon!)
9. Not Just A Housewife – I just found this great site by a crafty DIYing mom. She has some creative ideas and a keen sense of style when it comes to salvaged and reused materials. Shabby-chic fans will be especially pleased with her projects.
10. This Old House – It's certainly not a hidden gem like these other sites are, and most owners of a historic home already know, but in case you don't know all the ins and outs of this classic website it's worth another look. They have copious videos and tutorials for the various projects you may encounter not to mention a busy forum with others just like yourself sharing advice and good stories. It's definitely worth your time to explore more thoroughly.
I hope you find this list as helpful and entertaining as I do. These sites are a constant source of inspiration and wisdom for me and I know they will be for you too. Happy restorations to all you old house aficionados!